Indiana Office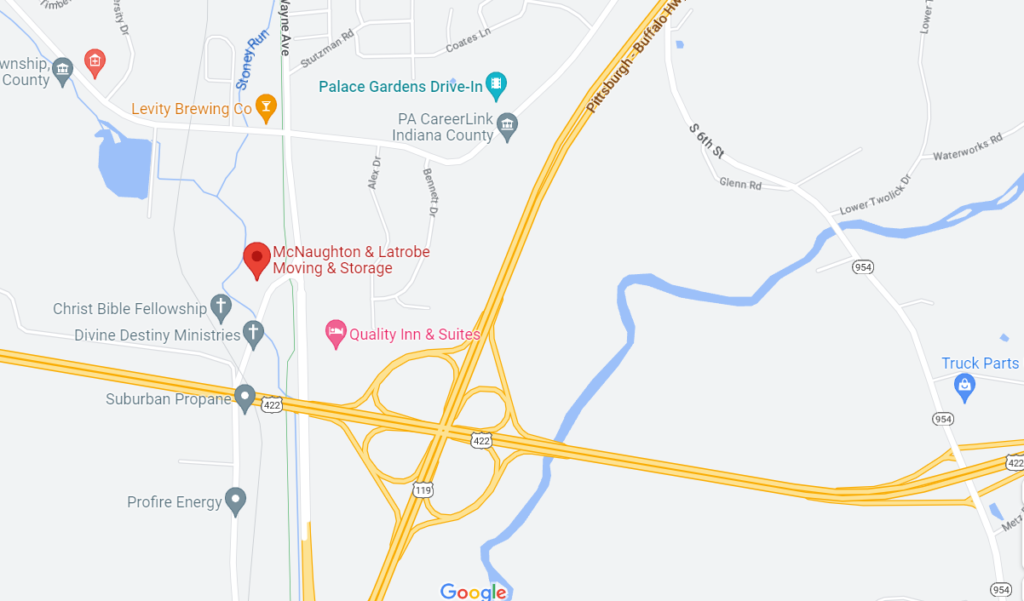 McNaughton Moving & Storage
140 Old Route 119 Hwy S,
PO Box 57
Indiana, PA 15701
Phone: (724) 463-3571
Fax: (724) 463-0187
Toll-Free: 1-800-826-7378
E-Mail: [email protected]
Johnstown Office
McNaughton Moving & Storage
288 Cramer Pike
PO Box 22
Johnstown, PA 15901
Phone: (814) 535-6714
Fax: (814) 536-1316
Toll-Free: 1-800-826-7378
E-Mail: [email protected]
Indiana, PA Office Directions
DO NOT USE A GPS/NAVIGATION SYSTEM TO TRAVEL TO THIS LOCATION. 90+% OF THEM ARE WRONG. If you need to use a GPS/Navigation system, put in 140 Old US Highway 119, Indiana, PA 15701. Even this address will not get you here with some systems.
This office is our corporate headquarters and is staffed Monday through Friday 8am until 5pm except holidays. It is also staffed most Saturdays from 8am until 11:30am.
From the North or South via 119 South: Take the Wayne Avenue exit. Follow it to the first stop light, make a left and we are the first driveway on the right.
From the East or West: Follow 422 and watch for the Wayne Avenue exit. Take the Wayne Ave exit which will also be the 119 South exit. Follow it to the first stop light and make a left, our driveway is the first on the right.
Johnstown Office Directions
This office is intermittently manned and therefore you should schedule an appointment if you intend to stop at that office.
From 403 South: Our office is right on 403 which is also Cramer Pike. Our building is crème colored and has a full height Allied Logo on it which is a "vanishing highway" with a number 1 in it.
From Johnstown: You will need to take 403N/56W through downtown Johnstown. When 56 splits off to the left into the West End you want to continue to proceed straight along Broad Street (Route 403 North.) You will come to a T at the wire mill where you will turn right and go over the bridge. Once you cross the bridge make an immediate left. Once you cross the railroad tracks it is about a 1/2 mile to our office which sits on the left hand side of 403.